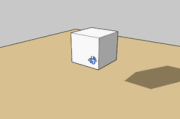 Frozen objects can be used to create a variety of effects such as Pressure Pads.Objects that are Frozen remain static until clicked or touched by another non-frozen object.. - see examples below. In Sketchyphysics2, some people used these as primitive touch sensors.
| | |
| --- | --- |
| | |
| A Non-Frozen object touching a Frozen one. | A Frozen object attached to a Motor Joint. |
Ad blocker interference detected!
Wikia is a free-to-use site that makes money from advertising. We have a modified experience for viewers using ad blockers

Wikia is not accessible if you've made further modifications. Remove the custom ad blocker rule(s) and the page will load as expected.