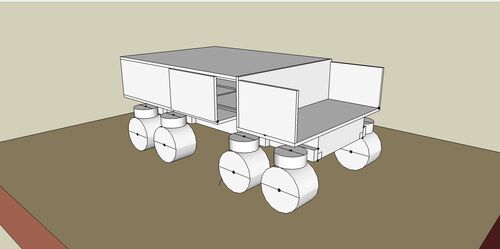 General Information
Edit
A large vehicle with a large cargo hold. It also has lifts allowing access to the holds and interior. It is still in the WIP stage. When finished it will feature: water crossing gear, a crane at the rear and a front grapple hook.
Creator: Sgt.A.Johnson
Contributors: Hobbnob
Project Page:: On the 3D warehouse
Overview Of Parts And Functions
Edit
The explorer has many parts/features to assist it in its travels. These will be described in detail here. The main features it would get nowhere without are: The hull Elevator and The Side Elevators. These allow it to move supplies and small/medium vehicles from the ground to the explorer and vice versa. The explorer does in fact include one small simple vehicle with it designed to be able to fit easily inside and move about.
This model was first started in mid spring 2008. It started off looking very different and was originally going to be a military vehicle. It started off being called the juggernaught. It ended up not being worked on again until Christmas 08 and was renamed the Mobile Fortress and redesigned from the ground up. Not a single feature of the original model remained. When sketchy physics 3 was released it was updated to be an sketchy physics 3 model. It had large amounts of weapons added to it. It eventually became hyper laggy. In April 09 all the guns were removed and the project was re purposed to become a mobile exploration vehicle. The modeller hobbnob was also brought on-board the project to assist in creation and development of the project.